Community Based Tourism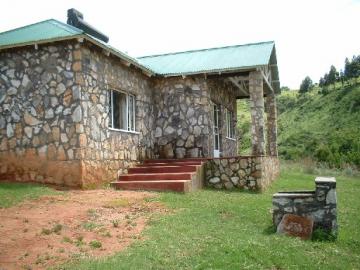 Tourists have visited Zimbabwe's rural areas for many years, although the local communities were rarely involved (or benefited from) tourism until a few pilot projects were set up by CAMPFIRE in the early 1990's. Most revenues from tourism in Zimbabwe's communal lands are generated through the leasing of sites for nature tourism, although in some cases local residents run basic tourist facilities and act as guides. Many more tourism plans are in the pipeline, including cultural tourism, bird-watching and access to natural hot springs.
Through the Zimbabwe Sun Hotels, a high-end tourism initiative was developed in the 1990s. The initiative saw the establishment of "high-cost, low-volume" game lodges located in communal lands, and mostly adjacent to National Parks in the Zambezi Valley and Southeast Lowveld. 12 such lodges were in operation by 1999. Today there are 8 facilities in operation (see last Table below).
In 1999-2003, CAMPFIRE Association established the CAMPFIRE Development Fund (CDF) with support from the United States Agency for International Development (USAID). One of the components of the CDF was the eco-tourism initiative. It consists of "low-cost, high volume" basic overnight accommodation, rudimentary camping, day visitor cultural centres and craft shops in communal lands, which were funded through infrastructure development grants, with communities providing locally available materials and labour. 14 out of the 18 large and small tourism enterprises funded were completed for operation mostly by community trusts and/or lease agreements with the private sector. These facilities provide a diverse product offering and target market based on wilderness experience, and specialist activities such as sport fishing and bird watching. Most cater for day visiting (hiking, cultural centres, cave paintings), basic overnight accommodation (camp sites, bashers, chalets), and crafts sales.
The projects are designed to generate a return on investment to the communities to enhance their interest in managing and maintaining the natural environment. The projects create employment and generate income for locals through the sale of various goods and services. This has led to the improvement of standards of living by stimulating the local economy, sharing revenues and contributing to community needs, and provision of infrastructure. Community based tourism also provides incentives for conservation.
However, according to historical records, the economic impact of tourism in CAMPFIRE is low (5%) when compared to trophy hunting and wildlife products. There are a number of possible reasons for this, and current efforts are aimed at incorporating direct and indirect tourism revenue in the CAMPFIRE financial database.
We maintain a list of all private or community-owned tourism facilities in CAMPFIRE areas that are functional. Next time you plan a trip make sure to give something back to the community and help conservation by choosing a CAMPFIRE resort or campsite.
CAMPFIRE Ecotourism Facilities
| | | |
| --- | --- | --- |
| District | Facility | Management |
| Nyanga | | Community Trust/Private Partner |
| Umzingwane | Mtshabezi Cultural Village | Community Trust/RDC |
| Matobo | Ntunjambili Day Centre | Community Trust/Private Partner |
| Guruve | Karunga, Masoka Camps | Community Trust/Safari Operator |
| Muzarabani | Mavuradona Wilderness | Community Trust/Safari Operator |
| Binga | Binga Cultural Village | Community/RDC |
| Hurungwe | | Chapungu Safaris |
| Hwange | Chezya Fishing Camps | Community Trust |
| Matobo | C J Rhodes Cultural Village | Community Trust |
| Pfura | Pfura Mountains Lodge | Community Trust/RDC |
| Mazowe | Banje Mountain Camping | Community Trust |
| Goromonzi | Ngomokurira Hills | Community Trust/National Museums |
| Bindura | Paradise Pools Day Centre | Community Trust/RDC |

Private Lodges on Communal Land
Private interests operate these ventures under lease agreements with RDCs on behalf of communities who are the major beneficiaries. These facilities share some of the following features: High level of comfort, Range of wildlife experiences, Targeted international the high-end market. Communities benefit from a percentage of turnover income or bed night levy, based on the number of visitors and their origin per year. Lodge owners also make in kind donations directly to the communities either from themselves or from their guests for local development projects. An annual lease fee for the land is also charged, and this is usually paid to the Rural District Council.
| | | | |
| --- | --- | --- | --- |
| District | Name of Facility | Owner | Partnership |
| Chipinge | Chilo Lodge | River Lodges of Africa | Com/RDC/Private Partner |
| Binga | Masumu River Lodge | Mr Allen Wheatley | RDC/Private Partner |
| Hwange | Gorges River Lodge | Imvelo Safaris | RDC /Private Partner |
| Umzingwane | Embizeni Lodges | Mr Piet de Velt | Com/Private Partner |
| Tsholotsho | Camelthorn Lodge | Imvelo Safaris | RDC/Private Partner |
| Nyaminyami | Bumi Hills | Lake Lodges | RDC/ Private Partner |
| | Gache Gache Lodge | Chapungu Safaris | RDC/ Private Partner |
| | Tiger Bay | Peter Macussen | RDC/ Private Partner |
Gairezi Ecotourism Project
A beautifully situated, self-catering set of four-bedroom lodges and a campsite on the crystal clear Gairezi River in the Eastern Highlands of Zimbabwe.
Activities:
Fly fishing for trout, hiking, birdwatching, shopping for local crafts.
Who Benefits?
Dazi and Nyamutsapa Communities, Nyanga
Bookings:
Rose Peacock
Tel: +263 4 861182,
Email: peacock@africaonline.co.zw